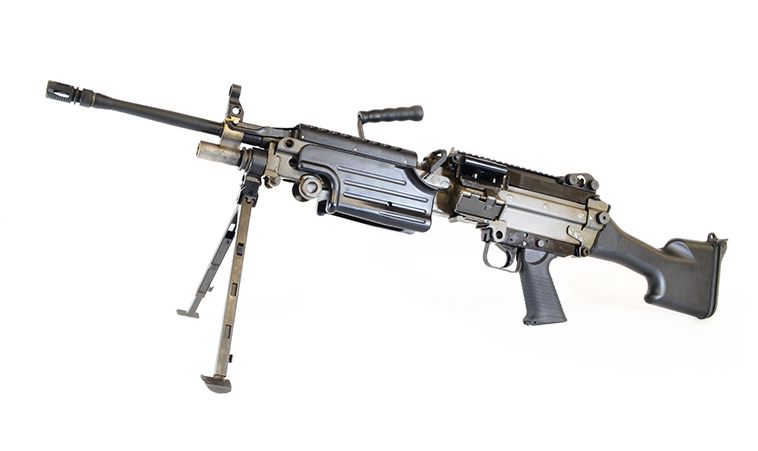 SPECIFICATIONS
weapon
The M249 light machine gun (LMG), previously designated the M249 Squad Automatic Weapon (SAW), and formally written as Light Machine Gun, 5.56 mm, is an American version of the Belgian FN Minimi. The M249 is manufactured in the United States and is widely used by the U.S. Armed Forces.

The U.S. Ordnance M249 machine gun provides infantry squads with the heavy volume of fire of a machine gun combined with accuracy and portability approaching that of a rifle. It can be fed from both linked ammunition and STANAG magazines, like those used in the M16 and M4. This allows the SAW gunner to use rifleman's magazines as an emergency source of ammunition in the event that he runs out of linked rounds.

The M249 is gas operated and air cooled. It has a quick-change barrel, allowing the gunner to rapidly replace an overheated or jammed barrel. A folding bipod is attached near the front of the gun and a M1913 rail on the top cover for mounting day & night optic sights.
key features
improvements
Caliber 5.56x45 mm NATO.
Weight (with bipod and tools) 7.701 kg (16.98 lbs).
200 Round Box Filled 3.140 kg (6.92 lbs).
100 Round Magazine 1.62 kg (3.00 lbs).
Spare Heat Shield, Spare Barrel.
Assembly and Barrel Bag 3.178 kg (7.00 lbs)
Length (Complete Gun) 1,015mm (39.96 in)
Barrel Assembly (Spare) 520 mm (20.50 in).
Rifling Twist (RH) 1 turn in 7 inches
Rate of Fire 700-1,000 rpm.
Max. Effective Range 800-1000 m (875-1,094 yd).
Stock Fixed
Tested at factory for function & accuracy per MIL-DTL-70446C
Fires 5.56x45 mm NATO cartridges on belts which can be in 200 round boxes or 100 & 200 round pouches.